MIAMI, Florida. More and more couples are opting to sign prenuptial agreements before they get married. Surveys of divorce lawyers have found that the number of couples seeking out prenups before they get married has gone up substantially. While prenuptial agreements were once the province of the rich and famous, average couples now use them to protect their rights, their pre-marital assets, and to clarify how property, assets, and debts will be divided should they divorce. Even poorer couples are choosing to draft prenups to protect future inheritance or to clarify who owns which debts. According to the Huffington Post, prenuptial agreements can often clarify gray areas of the law. For example, if a relative promises you a family home after he dies, but you get married before he dies, the inherited home could be considered community property, unless you draft a prenup.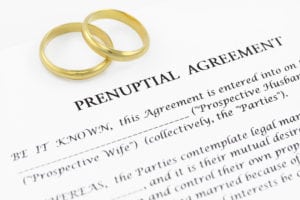 However, it is important to have a sound and strong prenuptial agreement if you choose to take this route. A poorly-worded do-it-yourself agreement might not hold up in court. According to CNBC, a poorly-worded prenuptial agreement can actually make your divorce harder.
First of all, when you sign your prenuptial agreement can make a difference in its enforceability in court. For example, asking your future partner to sign an agreement after the wedding invitations have gone out might not be in your best interests. Your spouse could later say that he or she was forced to sign under duress because cancelling the wedding would have been costly or humiliating. This is why many lawyers recommend that couples sign prenuptial agreements right after the engagement and before any wedding plans have been made.
Couples need to consider all their assets and potential concerns when drafting a prenuptial agreement. Consider speaking to a lawyer who can ask you thorough questions to ensure you're leaving nothing out. Sandy B. Becher, P.A. are prenuptial agreement lawyers in Miami, Florida who can ask you the tough financial questions that can be difficult to bring up in conversation with a partner.
It is also important to understand that prenuptial agreements won't resolve all issues that can arise during divorce. For example, you can't make child custody decisions in a prenuptial agreement. So, if you do get divorced later, it is still wise to hire a qualified divorce attorney to review your agreement and address any issues that may be left out.
Finally, prenuptial agreements, whether your financial situation warrants them or not, can also be a great way to start a discussion about finances and marital expectations with a future spouse. A prenuptial agreement lawyer can help you understand the financial and legal implications that marriage involves. Not all couples are aware of this when they get married. Knowing what you're doing when you say "I do" can be both liberating and illuminating.
Sandy B. Becher, P.A. are divorce attorneys in Miami, Florida who help couples facing a range of family law issues. Whether you're planning to tie the knot and need help with a prenuptial agreement or are thinking about getting divorced, we can help.
Sandy B. Becher, P.A.
201 S. Biscayne Boulevard
Twenty Seventh Floor
Miami, FL 33131
305.860.5811