Sandy B Becher PA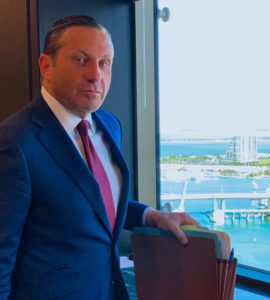 Sandy B Becher PA is a premier federal and state criminal defense, family, divorce and business development law firm offering services to individuals, companies, and organizations.
COMPASSION, RELIABILITY, AND ZEALOUS ADVOCACY
The legal team at Sandy B Becher PA is sensitive to the legal battles our clients have to endure. We recognize that every case confronts different challenges that require complete focus and attention to every detail. We aim to provide the most valuable legal guidance as cost-effectively as possible. Our firm is proud of the reputation we have built through our accomplishments and our trustworthiness.
SANDY B. BECHER
With over twenty years' experience as a criminal defense and family law attorney, Sandy B. Becher has handled hundreds of cases in and out of the state of Florida. He is known for his successful defense of James Giordano against charges for international sports-betting and illegal Online gambling, Mr. Becher also successfully defended Gloria James (NBA star Lebron James' mother) against battery charges stemming from an altercation with a valet parking employee at a Miami Beach hotel; Latin star Paulina Rubio's divorce and custody battle case; and rapper Flo Rida during a paternity suit and DUI charges. Other noteworthy cases have included Watson Island Murder case and The Bulgarian ATM Fraud case. Mr. Becher has defended numerous other clients on criminal charges such as murder, domestic violence, illegal gambling, bank fraud, money laundering, conspiracy, sex crimes, wire fraud, and DUI. In the area of family law, Mr. Becher has also provided outstanding legal representation in paternity, divorce, custody and international child kidnapping cases.
PRIOR EXPERIENCE
Sandy B. Becher has served as a public defender in Miami-Dade County prior to entering private practice. During his three years as a public defender, he represented hundreds of indigent defendants in felony and capital cases. Mr. Becher worked also as a judicial intern to Honorable Judge Andrew Napolitano, Fox News Legal Analyst.
COURT ADMISSIONS AND MEMBERSHIPS
- Florida, 1994
- U.S. Federal Court, Northern District of Florida 1997
- U.S. Federal Court, Southern District of Florida 1997
- Admitted Pro Hac Vice Federal Court, Eastern District of New York 2011
- Admitted Pro Hac Vice Federal Court, Eastern District of Tennessee 2011
- Admitted Pro Hac Vice Federal Court, Southern District of New York 2009
- Florida Bar 1994